Table of Content
Introduction
Type of wheelchair that can be used
Comparison between types of wheelchairs
Manual wheelchair
Powered wheelchair
Positioning wheelchair
Factors determining the best wheelchair in India
Characteristics
Make in India
Construction
Size and weight
Durability
The bottom line
Best Wheelchair Brand In India
When it comes to safety and security, the concern of every individual is the top priority. Considering the disabled and the ones who are unable to walk or move efficiently, they need wheelchairs as an aid so that they don't have to rely on others for any task or during any situation.
With a wide range of options among wheelchairs in India, it is normal for anyone to get stuck between choosing the best wheelchair brand in India. If there are considerations in terms of brand, there are also multiple things that need to be taken into the list.
What type of wheelchairs can be used?
There are a variety of wheelchairs and each brand and type of wheelchair consists of some functions and its speciality. But it also should fulfil the needs of individuals and the affordability functions too. Because that is the most vital element considered by many of them, if an individual invests it is normal for them to expect the best quality at the best price.
Comparison between Types of wheelchairs
Manual Wheelchairs: They can be controlled by the user's hand, also they can be used with the assistance of someone who can help in moving. Among manual wheelchairs, there are folding and lightweight wheelchairs, which offer convenience and accessibility to the user in terms of functions.
Considering Medimove, manual wheelchairs are mostly manufactured and distributed categories of wheelchairs than any other brand and category. 
Powered wheelchairs: A motorized wheelchair solves the fatigue and disability problem that limits the use of a hand-operated wheelchair. Power wheelchair users can go further without fatigue and gain autonomy when manual wheelchair use is difficult or impossible.
There are multiple options among them, the most basic electrically adjustable seats provide the occupant with the ability to drive and they are usually operated with steering and manual controls.
Medimove believes in manufacturing each component of the wheelchair in India because it makes the branding and recognition of wheelchairs not only within the nation but worldwide. 
Positioning Wheelchairs: These chairs are electric and battery-powered for mobility and positioning. There are many types and models of positioning wheelchairs. Many health benefits can be obtained from using a positioning wheelchair to move the user's body into different positions.
Some positioning wheelchairs can tilt backwards while other wheelchairs can raise and lower the user's legs and feet. Some seats offer all types of mobility while others can only do one type of positioning.
We have wide options in wheelchairs in India, the best feature that we provide is the leg adjusting the position and reclining position which thus offers better circulation of movements by avoiding issues of ulcers and wounds.
After knowing the basic types of wheelchairs, now to make it simpler to recognize the best wheelchair brand in India, let's glance at comparing key elements which will help in choosing the right one.
Factors for determining the best Wheelchair Brand in India
Characteristics: Each brand has its own unique feature and functions which makes that brand ideal for choosing. These include sizes or weight carrying capacity or color. Medimove proves to be the best brand than any other as the aim is to provide the user with customized wheelchairs in every term.
When buying a wheelchair, it is a normal tendency by users to research and analyze the brand but we help you in choosing from the wide options available to us and also choose the best.
Make in India: The most unique or considerable factor is made in India, we believe that not only distribution but manufacturing if done within the nation, will help many. So Medimove takes manufacturing of not only wheelchairs but each component right from a bolt to the wheels used in wheelchairs.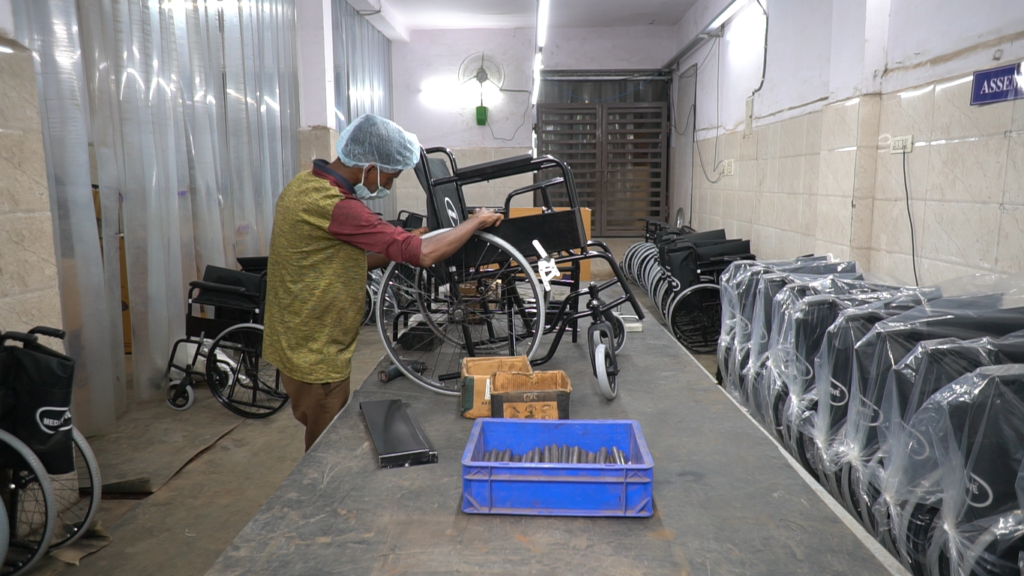 This feature makes us stand out to be one of the best wheelchair brands in India than any other. Through this, there is a great support of the Make in India concept.
Construction: The base materials used for manufacturing a wheelchair are titanium, aluminium, and steel. If the materials are of the finest quality, they will be used for longer than their required duration. And if you are looking for the best, forget the rest. Because we construct each base element by ourselves and then convert it into the finished product. Keeping in mind the requirements of our clients, we try to make each wheelchair with great effort.
Size and weight: The weight carrying capacity of every wheelchair may not be the same and their carrying capacity also differs. Physical weight and size play a vital role in determining the best wheelchair for you. This need can be fulfilled by us because customizations are made as per the weight of a person.
So, weight and size concerns will be solved by us in a more efficient and fruitful manner than any other brand.
Durability: This is the most essential factor because if the wheelchair is not durable and if it needs to be changed, again and again, it becomes a bit expensive for anyone. We at Medimove, strive to provide durability with affordability because they are the top reasons while making a wheelchair purchase.
If you are with us, there are no worries in terms of services and durability. And when it comes to affordability, we are here with the best pricing and top quality.
The bottom line
We hope that these points of comparison help you in selecting the best wheelchair brand in India. Not just with the aim of providing services but also with the guidance to make your decision fruitful.