What not to miss out on Foldable wheelchairs?
With a wide range of options among wheelchairs and wheelchairs manufacturers, it becomes confusing to select a specific wheelchair. Age, height, weight, accessibility, etc. are the deciding factors for choosing a wheelchair. Have you heard of foldable wheelchairs? Which category do they include? Are they convenient and durable? Like these many questions may be arising, so let us try to find answers related to Foldable wheelchairs.
Foldable wheelchairs are manual and are powered by the use of users' hands. The greatest benefit of foldable wheelchairs and lightweight wheelchairs are they can be placed conveniently into a smaller vehicle and can be carried wherever. It can be operated conveniently but it causes fatigue if the user travels for a very long distance or moves around for an extra time.
Foldable wheelchairs have a structure of crossed brace, where the frame is double by bringing the edge of the wheelchair, allowing users to fold and bother the chair from both the front side and the backside. But now there are new and upgraded designs invented to make it easy for users in having mobility.
The folding frame is available in titanium, aluminium, and carbon fibre. They are traditionally designed so that only the foot section flips up to aid in transfer. Then they progressed to the retractable footrest and detachable arm.
A newer style, the scissor brace flexes by pulling the release mechanism from the front of the seat, making it accessible to the end-user and flexing. Folding seats have the advantage of being able to swing inward or outward and the main consideration is an open space in front of the seat for transfer.
A specific type of wheelchair works extremely well for many people and is certainly worth considering as a foldable wheelchair. This particular wheelchair has many advantages and they form the perfect choice for many people. If you wonder whether a foldable wheelchair can be a good choice for you. Here are some advantages of the foldable wheelchair through which you can decide upon purchasing.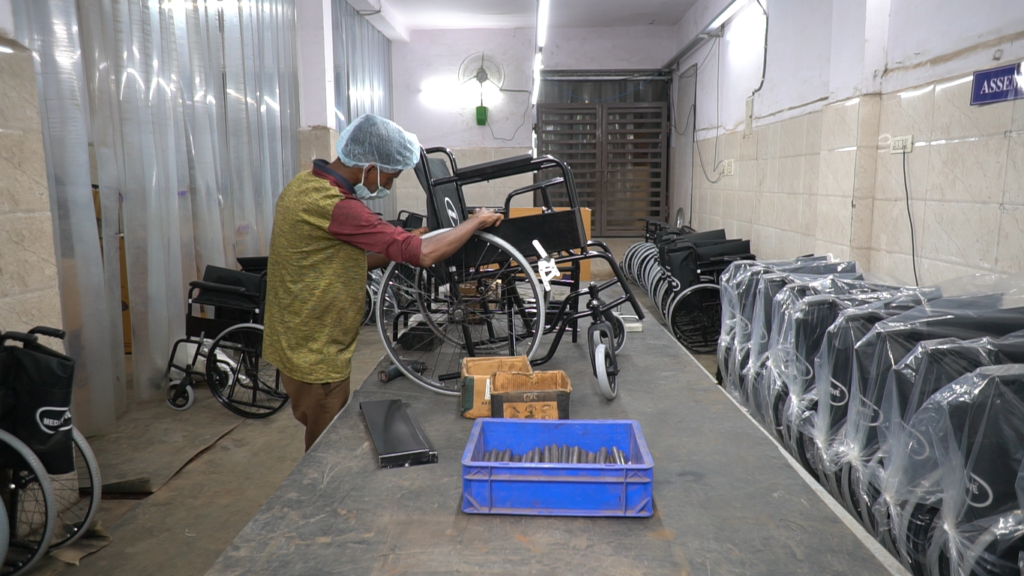 Foldable and flexible
The fact that a chair can fold has many advantages and often once a wheelchair user has a folding chair they cannot go back to a standard hard chair. Of course, the main advantage is that you can fold it and can place it anywhere. Many people are surprised at the extent to which flat wheelchairs can be bent and how incredibly flexible they are in this regard.
Multiple choices
Today, you can choose from anything from self-propelled folding wheelchairs to folding electric wheelchairs and everything else. Regardless of your individual needs or what you are looking for in your wheelchair, you will be able to find the perfect folding wheelchair that meets your requirements. Because manufacturers never stop custom-making and upgradations never, users never have to limit themselves to choices.
Easily transportable
The motive behind a foldable wheelchair is, it can be transported easily anywhere and the best part is it can be carried anywhere while travelling or moving to places. They are portable and can be taken downstairs without any extra effort. It is the best option while travelling because it does not limit to any specific transport, it can be taken by car or bus or any mode.
Independent activities
It is said that a wheelchair user needs someone to assist while doing any kind of activity, but now that is advanced. So, there is no dependency on anyone and the user can independently complete all the activities without any issues. The tag that wheelchair users are dependent on has changed to independent, all thanks to custom wheelchair manufacturer and their innovation.
It can be stored easily
The main concern whole buying a wheelchair is the storage. Due to this people limit their options, but foldable wheelchairs without any compromise on durability and functions are the best in terms of storage options. You can always store and use it as and when you want without any thought.
We at Medimove, don't just focus on wheelchairs but also on the components that make an ideal wheelchair. The accessories are the functional elements due to which the mobility of users is easier. The accessories such as joystick mounts and gimbals, carriers and holders, safety devices, tray holders, propulsion accessories, brakes, footrests, cushions, restraint straps, etc.
We also take up custom wheelchair manufacturing and provide all the accessories according to the user's convenience. Just mention your requirements and we try to stand on our customer's expectations. Move easily with Medimove. 
Till Then Happy Reading! – Best Non-Weight Bearing Hands and Elbow Crutches